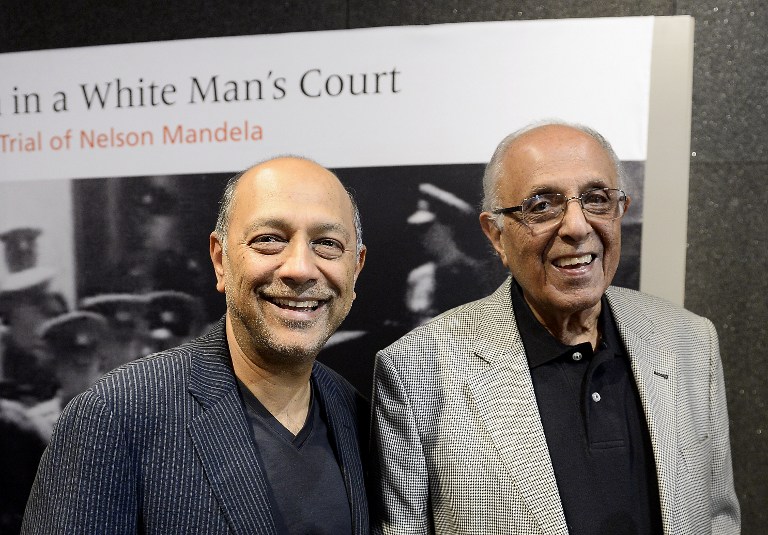 Today, 21 August 2019, struggle hero, Ahmed 'Kathy' Kathrada would have celebrated his 90th birthday.  We pay tribute to Kathy as a selfless leader who was dedicated to the principles of justice and freedom throughout his life.
I met Kathy shortly after his release from prison and we formed a strong personal bond.  He was my mentor and confidante, and he was also a huge inspiration to me and my family, sharing a very special relationship as a close family friend.  We miss him dearly.
In the course of the development of MANDELA: LONG WALK TO FREEDOM, Kathy worked closely with me and the Videovision Entertainment Team.  Madiba had advised me to consult with Kathy as an authentic and reliable resource, and Kathy was always extremely helpful in providing intricate details with his remarkable memory.
Kathy's legacy is perpetuated through the work of the Ahmed Kathrada Foundation which promotes the values that he stood for, among which are integrity, selfless leadership, dedicated activism and non-racialism. On the international front, the  Foundation had taken up the cause of Palestine, Zimbabwe, West Papua, Western Sahara and Cuban activists who were detained in the United States.
Kathy was a student leader in his youth and worked at the headquarters of the World Federation of Democratic Youth in Budapest in 1951, and returned to South Africa a year later.  I was fortunate to visit Budapest with Kathy and his wife Barbara shortly before his passing. It was one of my greatest thrills to experience with him the Budapest that he knew and go to the places that were etched in his memory, with him as my guide.
The Ahmed Kathrada Foundation is dedicated to the legacy of Ahmed 'Kathy' Kathrada and ensures that his story, and his contribution to our democracy continues to inspire people beyond his lifetime.
Anant Singh
21 August 2019